Kalyan Das hindu temple Rawalpindi taught compassion
Kalyan Das Hindu temple is sited in the center of  Qandeel Public School of blind children at Kohati Bazar, Murree Road.
It is quite well preserved considering the patrons had left 70 years ago
Where is Kalyan Das Hindu Temple Rawalpindi
It is very close to banni chowk on the Murree Road
Also, see
Hindu temple of Bohri Bazar, Rawalpindi
History of Kalyan Das Hindu Temple
Built by a prominent Hindu business family of Rawalpindi in 1880, the Kalyan Das temple is an awe inspiring sight.
Lala Kalyan Das Suri was the patriarch of the family who financed and then ran the temple administration.
Lala Kalyan Das had no child of his own, he adopted his brother's son named Diwan Chand Suri.
The Suri family had specialized in trade of wood. Their haveli is still in Kirtarpura area, and has been renamed 'Nuri manzil'.
Tata and Suri Family  of Pakistan
Their present day off-shoot is the Tata family, who are now specialized in motor vehicles around the globe.
Suris had a presence in Delhi before partition as well.
After the great divide, Suris migrated out of Pakistan in 1947 and joined their folk in Delhi.
Now the Suris own the tallest apartment block in New, Delhi.
Suri have quite a presence in Australia
Hindus of Rawalpindi
Most of the Hindus and non-Muslim families of Rawalpindi used to live in a cul-de-sac on the Western flank of Muree road.
Their community was protected by the Nullah Leh from the West and South and Government Buildings to the North.
Mohanpur, Kirtarpura, Kohati Bazar, Bagh Sardaran and Gunj Mandi were their areas.
The Suri family, like the Rai family lived in the same pocket.
Smack in the middle of Kohati Bazaar, the then ground zero of affluent Hindu traders, this temple is one of the biggest in a network of temples all around the place.
Hindus preferred staying together and in exclusive settlements and narrow lanes, in a miles radius, around Bani Chowk area.
Purpose of Kalyan Das Temple
Prayer was the top most purpose.
Secondly, this temple was their evening get-together joint.
They would chat every evening in the Temple premises under the shade of Banyan and Pipal trees outside the courtyard.
Rituals of Kalyan Das Temple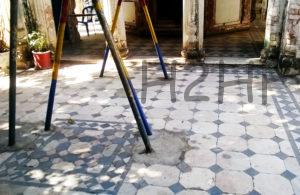 The temple itself was surrounded by clear water pond or the Ashnan area.
The main structure was on higher ground and each rank of Hindu devotee was assigned a particular level which they were not allowed to cross, while climbing towards the main temple.
Only Brahmans were allowed to cross the white marble terrace to reach the main structure, across the pond.
The most pious of Female devotees were housed in one of the four corner rooms, where they prayed all year round, and served the head priest.
Physical Layout of the Temple
The temple complex was spread over 5 acre area and had 100 rooms for visiting devotees.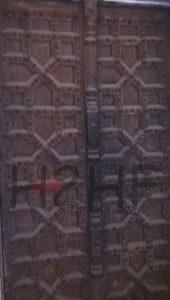 The temple door is made of sandal wood and is carved to perfection.
Each mural is etched in expensive stones like lapis, which are only available in Afghanistan.
The tiles are still as good as new, I thought they had been renovated recently— in fact they are 150 years old.
Paintings on the Temple Wall
All three (Trimurti) Hindu deities are depicted in the murals;
Brahma (creator),
Shiva (destroyer) and
Vishnu (preserver).
Then we have lord Ganesh and Lakshmi also.
The main spire has figures of the chief patrons of the temple.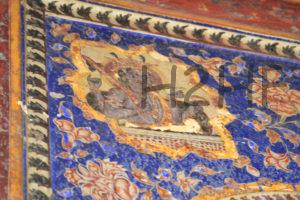 One inscription on a fresco mural in Gurumukhi says 'Shamaskhi'; this means the tale of Bhagwan Krishna.
As Lord Krishna is the Hindu god of mercy, compassion and love, this points to a peace-loving and accommodating community.
Every spring, the Hindu pilgrims from all across the world would gather here to rest, bath, dress in their ceremonial robes and then begin their barefooted walk right up to the Amaranth Caves in Indian Held Kashmir, through Muree hills.
Legend of Kalyan Das Mandir
The legend has it that somewhere around 1946-47 lord Krishna descended from heaven at this very site and addressed the Hindu community saying,
"Your days here are ended. Prepare to migrate!" 
The legend says there were 200 devotees at that time who would swear they saw Lord Krishna utter these words.
Was Kalyan Das temple destroyed?
Pakistanis have generally respected the place except one incident after the Babri Mosque episode when vandals pulled down the brass tips of the spires
 Prophet Muhammad pbuh forbade destruction of places of worship and monks in them. The temple grounds now house a visually impaired school.
The funny thing is that even the current generation of Suri family in India washes their hands after meeting Muslims – at least that is what I am told.
 Oh! In case you are wondering, the Hindu families took all their gold with them.
It wouldn't be a bad idea to let the accomplished Hindu families of Pakistani origin to bring back some of their expertise to the country.
At least they would be better adjusted as compared to the snooty nosed white folks, whom we beg to bring in investment.
Stay tuned for more interesting historical gems!
If you have liked reading this i am sure you would like to see more pictures of this temple and read more about other hindu temples around it.
We have compiled all the temples in Rawalpindi in one video. You will enjoy watching it.