Rai Bahadur Soojan Singh Haveli in Rawalpindi-3, Pakistan
Coming from a long line of influential Sikh notables, Soojan Singh (death 1901) was the third-generation businessman, whose primary job was supplying rations to troops. His haveli is magnificent.
His elders had supplied Sikh troops in all their campaigns in Kashmir and North-West and the British in the Afghan war. They mostly dealt in wood, rations, fodder, fuel, etc. Sujan Singh's forefathers are credited with establishing Rawalpindi city. This family, founded by Sadhu Singh was in every royal court, starting From Ranjit Singh right up to the British. The only time they fell out of the grace of the powers to be was when English rulers annexed their estate for supporting the Sikhs in the Anglo-Sikh war. British left them with only the present-day Misrial village (opposite West ridge). They wisened up after that and sucked up to the British in the 1857 uprising, and were granted another village, the Katarian.
Rai Sardar Sujan Singh Haveli was built around the 1890s and is located in Bhabra Bazar. In its prime, the structure would shine like gold when all the fire lamps inside were lit, after sunset. It is a magnificent structure four stories high with two buildings and 45 rooms connected through an overhead walkway.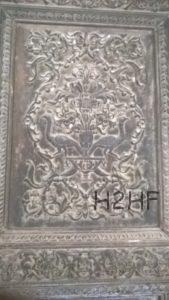 The four-story building once had ivory embellishments, woodcarvings, imported steel designs, antiques, gold-plated artifacts, and works of art.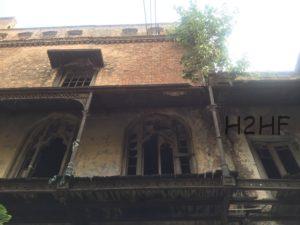 The courtyard had a domesticated tiger roaming about and dancing peacocks strutted to live music every evening. The fountains and ponds were supplied through 30 special water channels. Even now the main door's carvings are astounding and tell a story. Sardar Sujan Singh would entertain his British masters every week in his outstanding masterpiece of architecture. It is believed they moved out of this ceremonial building and shifted to Rawalpindi Cantt in the haveli, which is present-day Fatima Jinnah University.
The man was a philanthropist too. He built the cinema house, library complex inside Rawalpindi Cantonment and donated it to the Lansdowne trust. Why he named it after the ruler of British India is anyone's guess. Oh! And he would dine British officers in the lawns of that place too. Quite the apple polisher!
Another outstanding architectural wonder is his Bagh Sardaran Haveli. It is a well-preserved structure with the servant quarters and the adjacent Gurdwara still intact. A few of the date palm trees are also there. The lawns have long gone but the main building with its majestic spires is still awe-inspiring. The frescos and murals are lovely. Inside there is a massive main hall with suspended balconies on all sides. The Gurdwara was functional up to a few years back.
Sujan Singh haveli is believed to have been connected to Bagh Sardaran Haveli and Purana Qila through secret tunnels for the notables to escape from marauding barbarians.
In 1947 everyone from the Sujan Singh Family left and settled in Delhi. There are still some Sikh families in Rawalpindi like the Arora family, but very few in numbers. I wish they would move out the police from Bagh Sardaran building and hand it over to some university, like Sujan Singh Mansion, so that someone can build it back up to its glory.
There are many more Hindu temples and Jamia masjid around it and i am sure you will enjoy reading these blogs too.
We have compiled all the temples in Rawalpindi in one video. You will enjoy watching it.