Hingol National Park Ormara & Korangi Creek Tour
Hingol national park on the Arabian Sea coastal highway is a place for people interested in experiencing something off the beaten track.
Also, see
Which province is Hingol National Park located?
Hingol National Park is in Baluchistan province but to get there you have to come from Karachi, Sindh
Its vast open plains, jagged mud hills, mud volcanoes and sand dunes are too inhospitable for city dwellers. .
Hingol National Park Tour from Rawalpindi
Our journey started from Rawalpindi.
We booked return air tickets for Karachi (Rs 20000 each) as the drive would have taken 24 hrs.
There would be at least one night stay just on the drive towards and return from Hingol National Park.
 I have kept the drive to Karachi for some later day.
It is 1700kms for Rawalpindi to Karachi and stay would most likely be in Bahawalpur or Rahim yar Khan.
Hingol National Park Tour from Karachi
On reaching Karachi we took a taxi to PAF Korangi Base
PAF Base Korangi Creek Airmen Golf & Recreational Club
Booking at Phone: (021) 99555600).
Chalets at PAF Base Korangi Creek Airmen Golf & Recreational Club
It has beautiful chalets, perched on wooden frames, right over the shallow waters of Korangi bay.
 The view from these chalets is mesmerizing.
Bundle Islands are visible in the distance, waters of the Arabian Sea rising and falling beneath us and fishermen boating across our eye line in the distance.
A single cargo ship left stranded and abandoned in the shallow waters of the bay gives some ground reference to the uniformity of the landscape.
We could see tides rising and ebbing through the wooden floorboards of the chalet.
There was a pristine Mangrove forest beside us, with an ecology of its own
There were birds and sea creatures like crabs I had never seen.
Late at night, I went out to see the moon reflecting off the sea and the yellow lights of the jetty beside us.
The whole sea was drenched in the blackish-blue light of the moon. The quietness and rhythmic waves had a therapeutic effect.
Recreational Activities at PAF Golf Club
The recreational club also has horse riding, golf, skeet shooting, water sports, and dirt bikes for visitors. Kids have a good time there.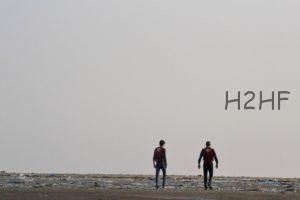 We took a boat ride to one of the Bundle Islands and had to swim to the beach in murky water.
Korangi Creek Beach
The beach was interesting because it is not so accessible, but it was littered with trash the sea brought in from the city.
There were a few very hungry and menacing dogs on the island that I had to fend off. I wonder how they got there.
During Pres. In Musharraf's time, there was a proposal to reclaim the sea around Korangi Bundle Islands and build a VIP resort there.
It would have worked out very well considering poor spoilt rich people need anonymity to revel in decadence, and this place would have been ideal for that.
Hingol National Park distance from Karachi
Hingol National Park is 3 hours and 47 minutes from Karachi or 243 Milometers from Karachi on the RCD Highway to Iranian Border
Rent a Car for Hingol National Park
The next day we booked an Altis on rent (Rs 15000 for 48 hrs.) and took off at 0600 hrs for Hingol national park, in Baluchistan.

Breakfast at the boat basin
We stopped at Boat Basin to have breakfast at Khattak restaurant to have halwa puri, lassi, tea, eggs, parathas, keema naan, and channa.
The open-air platform with gao takya and carpets gives a lovely feeling so early in the morning.
Petrol at Winder last Stop Hingol National Park
Our next stop was Winder, where the South-North Highway breaks off Westwards (coastal highway).
I discovered I needed more petrol, and this is the last stop to get some.
I also found out that my spare tire was punctured and there are no truck stops for the next 250 km.
I took care of business in the washroom and set off towards Ormara which is a further 300 km.
Mud Volcanoes Hingol National Park
Our aim was to find the Hingol mud volcanoes through a marker on the road, but there were none.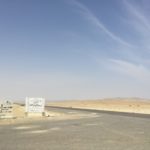 We were lucky to spot a volcano on the horizon while driving through endless straight roads of nothingness.
The volcano is easier to access is just ten-minute drive off the main highway on a clear track.
We climbed up the easier volcano and found mud constantly flowing down the hill face from a crater at the top.
The stench of sulfur bubbling out of the crater was strong.
The mud in the crater was very soft and was more of quicksand. Nothing floated on top.
I bet the rocks we threw in the crater were halfway into the earth's crust by now.
The fine sulfur mud would do wonders for skin treatment. My daughter thinks her skin feels softer already 
Nani Mandir Shri Hinglaj Mata Shakti Peeth Temple Hingol National Park
 Our next stop was the Nani Mandar (Shri Hinglaj Mata Shakti Peeth Mandir, Baluchistan, Pakistan) which is 15 km off-road from Agor.
Is Hingol National Park Safe?
The area is pretty safe. No incidence was ever reported.
The Baluch people are very hospitable and tough. They are not the kind to enjoy trouble in their own turf.
They are one with their land and it's hard to imagine indigenous people like that hurting anything or anyone in their environment.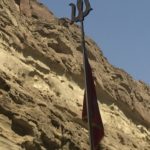 A metaled road leads straight up to the door of this ancient mandir deep in a gorge inside Hingol Park, close to Hingol River.
It is located inside one of the streams supplying the Hingol River and the actual mandir site receives little or no sunlight year around.
Tourists at Hingol National Park
It gets 100,000 visitors every year, a lot from India as well.
It's interesting to hear from the Hindu priest there, called Maharaj, about Hindu mythology and the history of the temple.
Pakistan can get a lot of foreign exchange by opening up religious tourism for Hindu yatris.
The moortis (idols) of Hanuman and Lakshmi were more visible around the minor temples.
Wildlife at Hingol National Park
The priest had encouraged Chinkara deer to roam around the area to give a look of peaceful heaven.
I also saw a crocodile in the Hingol River before the temple
There were a few palm trees as well but the cleanliness needs to be improved.
Overall it is worth seeing.
Burial Ground of Muhammad Bin Qasim's Generals
Right on Agor Check post, is the burial mound of Muhammad Bin Qasim's Generals
Similar to Makli Necropolis Thatta
The interesting thing is that the 50 odd visible graves have tiles similar to the Makli Necropolis although they are around 500 km apart.
Also, only one gravestone has Kalima Tayiba on the tiles.
It can be inferred that Muhammad Bin Qasim probably landed close by with his armada.
The only landing point for an invasion army is Kund Malir Beach. We left that for the return journey.

Ormara Baluchistan
Ormara town's T-junction has a pristine beach right in front.
The Ormara bay ( it was also in my list of 5 must-see places in Pakistan) is like a crescent with hills on either side.
Yellow sand and clear water on the beach look lovely. 
Ormara Pakistan Navy Base
We went to the Ormara Naval base's beach which is every lovelier.
The sea birds are unlike I have ever seen before. The water has a clear blue color and has a dense population of fish that frequently splash to the surface.
Crabs, urchins, snails roam freely in this natural ecosystem.
Sea Gulls feed off fishes in the distance.
The beach sand is so clean that it doesn't even stick to make a sandcastle. At a distance is the Ormara Harbor  
Sunset at Ormara Bay
Before sunset, we drove up on the tabletop mountain beside Ormara harbor.
After a straight drive of 20 minutes, we reached the sighting point at a cliff that overlooks the harbor on one side and the sea on the other.
When the Sunsets in the ocean, the sky changes color from yellow to orange and then to red. It was a pretty sight.
 The next day we went on a boat ride around the same harbor.
Dolphins at Ormara
We couldn't get a glimpse of dolphins that swim in these waters though.
Ormara is a natural port that could well become Pakistan's third shipping port as well. It is probably the most beautiful place in Pakistan.
/
Princess of Hope Hingol National Park
On the return journey the next day, half-hour into the drive, the terrain changes into series of Mud Mountains that have transformed into gorgeous works of natural art.
The famed princess of hope is here too. Even more beautiful are mounds that look like forts, buildings, warriors, and woman and cathedral churches.
\
Golden Beach Hingol National Park
The next stop was the Golden beach of Hingol Park.
Its waves were higher than anywhere else.
 It would be a surfer's paradise. 
Kund Malir Beach
Kund Malir beach has a lot of traffic now.
/
But it is still very beautiful to see, especially the colorful fisherman boats that bob up and down on beneath the rocky cliffs at the flanks of the beach.
Shopping at Zainab Market Karachi Saddar
We got back to Karachi before Sunset and flew back the next day after shopping at the factory outlets at Saddar.