Rawalpindi, Pakistan, Perch ( beautiful) View
You'd find the best views of beautiful Rawalpindi city, Pakistan in the most unlikely of places. Since Rawalpindi has expanded eastwards, several new outcrops have opened up that gives a spectacular view of the city all around. Some are to be visited at dusk when the Sun is cooler and it's peaceful all around.
Best time to Enjoy Rawalpindi
The best time in my opinion is after sunset. This is the time when people are back home and relaxing for dinner. The roads are thinning, it's less noisy, the lights are on and a steady breeze blows across.
Best Views in Rawalpindi
These are my picks for the places with the best views of beautiful Rawalpindi near me, their pictures, and location maps:
Statue of Liberty Bahria Phase 8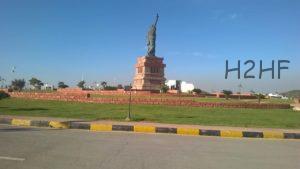 Statue of Liberty, Bahria Town, Rawalpindi sits on a perch that overlooks Phase-8. Not only is it a very aesthetically made replica of the real thing; it is also clean, well-lit, and safe. Lots of couples mill about the place. A cool breeze blows across when you sit on one of the park benches that line the roundabout. Phase-8 below looks beautiful in the night sky with roads neatly aligned in front. Streetlights look like fireflies and twinkle in the dark. Don't forget to pick up a coffee from Gloria's right in the commercial area of Phase-6. Kids can have ice cream at the local ice-cream shop as well.
Eiffel Tower Bahria Phase 8
The Saint's ziarat besides the Eiffel Tower replica, Bahria Town Phase 8, Rawalpindi has a few meters of flat surface to sit down for a quiet meal and snacks. Thank goodness Bahria town didn't tear it down. The mound on which this ziarat is located gives a magnificent view of the surroundings. The best part is that not too many people visit the place on weekdays and its stairs are relatively steep. This keeps out the pesky kids and oldies.
Takht Pari Park (Japan Road) Bahria Town 
A road runs through a National park that connects Bahria town phase 7 Sector F, Rawalpindi to Phase 8. Right at the middle is a vantage spot that overlooks Rawalpindi city and Bahria town itself. The road is lit up while there is darkness all around. This park was supposed to be protected from urban development— but I am not complaining. It's a very good experience looking across GT road. You can also have chicken roll parathay on the way back.
DHA 1 Main Mosque Water Tank 
A high-rise water tank at DHA Phase 1, Rawalpindi is like a search tower for the sprawling city in front. Soan River looks very beautiful from this tower, especially after rain. The first story is easy to climb but the top deck has to be reached by a rickety metal staircase. Still, the climb is worth it. This tank is near Jamia Masjid. There is usually a guard stationed there but he lets you climb up if you don't act suspicious.
Gulberg Green Ziarat
Saints across the Potohar plateau have an uncanny ability to spot prime real estate. Another saint's ziarat is at the last end of Park Avenue, Gulberg Islamabad offers a birds-eye-view of Gulberg its self. This place is far away from civilization and it is just 30 minutes drive on a perfect road. Lots of cyclists, including me, use this track while coming from Tramri to Islamabad Highway and back. If you want to avoid roadblocks on the Islamabad highway like the LYRA dharna, this is the track to use.
DHA Valley artificial Lake
There is an artificial lake in DHA Valley approachable from Kallar Syedan side.
It is a lovely place for dating and picnics. 
PRO TIP
Rawalpindi is safe and secure
Shah Allah Ditta Sunset
Lastly, do drive up to the top of Margalla hills from Shah Allah Ditta caves at dawn. The view of Islamabad in the early morning sun is beautiful. If you have a 4×4 you can drive all the way to Khanpur dam on this road and see Saffron fields along the way. Do have tea on the picnic tables along the route at the Margalla pass, a sunset-watching spot. There is more to do up in the caves.
Java Dam site is a few kilometers off-road from Chakri road. The dam reservoir has its own jet ski club and food court. The only problem is getting in through the army check post. There is always a Misriot Dam site just in case you don't make it to Java Dam.
Also worth mentioning are the rooftops of World Trade Centre DHA-2 Islamabad and Centaurus mall. That is if you can grease palm your way to the top.
Don't be high on anything else besides life, while you visit these places as someone might decide to fly on the way down! Enjoy
FAQ on Rawalpindi
What is Rawalpindi Pakistan?
Rawalpindi is the sister town of the Capital city of Pakistan, Islamabad.
What does Rawalpindi Mean?
Rawalpindi means the village of the Rawal (Bhatti Rajput)
PostScript.
Of course, these best views of beautiful Rawalpindi do not compare to the views in the outskirts of London, Denver, New Jersey, NYC, Montana, Grand Canyon, Golden Gate,  Sad Diego, or even Wyoming, still, this is what I like to see.