Six (6) hateful things about Pakistan ( Let me tell)
As if there are not enough things already to hate in the world, these are an additional six hateful things about Pakistan:-
8000 meters high Nanga Parbat is the worst thing about Pakistan, closely followed by emerald-water Ormara Beach. How can you not hate staring at snow-clad Nanga Parbat basked in yellow early-morning light (especially from Rama meadow), while a clear water stream flows beneath you? Add to this a hot cup of tea and your hate-hell is complete. Behind you is a clear road lined with trees in different hues of yellow and orange. You turn your head and you see the turquoise water of Gilgit River. Awful.Then you travel towards Ormara on Coastal highway and you see miles and miles of pristine Golden sand and unexplored beach outcrops — how underdeveloped is this country? This is hateful things about Pakistan No 1.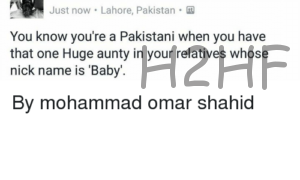 The phuphi, Khala (aunts), and cousins that terrorize you with love, gifts, and unconditional support—so intrusive! How dare these people to keep track of my wellbeing and financial health, without me even knowing? Am I not a grown-up? Can't I handle myself? Nooo! Whenever I am down on luck, they will pick me up, carry me to safety and pay me till I get back on my feet. Eid and marriages is a week-long nightmare of non-stop partying, laughs, and bonding. What an inconvenience!
Don't even get me started on Pakistan Cricket. Did you see fireworks on this disastrous PSL-3?  ( you should read this)Pakistan Cricket reminds me of Amitabh's dialogue with Rashi Kapoor, " Meray pass bank balance hai, gari hai, makaan hai, tumharay paas kya hai?" — Meray pass Shahid Khan Afridi hai! (I have huge bank account, a nice car, a massive house, what do you have? — I have Shahid Khan Afridi) The shortcut seeking Pakistanis— Uff! Remember 'Jugaaru' Shahid Afridi biting the cricket ball? No one connects with Pakistanis just like Afridi does. His one-man destruction of India in Bangladesh and gutsy statement ''Indians have a tiny heart" has anointed him as
the Maradonna of Pakistani Cricket. He can do no wrong. Our cricket team swings from WW-II Allied victorious army to a Macbeth tragedy in one day and we lap it up like masochists. Soo immature!
The calories packed Pakistani Mangoes like Sindhri, Chaunsa, Anwar Ratol, and Langra are sooo bad for the waste line, but we must eat a ton every June. We practically survive the summer months on Langra and chilled Lassi. Every summer we pile on the fat and just when we are about to tip over into diabetic range, thankfully winter comes in. This savory treat is the devil's fiddle. It is un-Pakistani not to eat mangoes till you pop—how unhealthy!
Then I can say 'sorry' to the traffic warden and he'll let me go; I can pay the town water superintendent to layout a special line for my home; Furthermore, I can hire domestic help on peanuts and live like a royal. All this is possible only in this 'backward' country  I especially hate it when people's eyes light up in respect when I mention that I've worked for the military.
Lastly, the ugliest thing about this hell hole is the premium quality organic hashish that you can get on every street corner shop. It has a spiritual significance in our Sufi subculture—hence the acceptance in society. Pakistan once was an important stop of the hippy trail in the 60s and I can understand why. Although I haven't tried it myself, one passive-smoke puff can take you to the moon and back.
The hateful things about the Pakistan list don't end here. Only Pakistanis understand the quirkiness of the place. So, to all the Pakistan haters, I get it!, I understand why you hate us, cuz you don't get us. Even I don't get us, but I swear there is no country like this Schizo!12 Rules for Life: An Antidote to Chaos
PostScript.
Indians, using the anonymity of social media, utter the most hateful things to say to someone, about Pakistan — that's not nice. It's like the hateful things trump's republicans say to Obama's democrats. Maybe Pakistanis need to write a Sei Shonagon novel "Hateful things", as a rejoinder. This satire will definitely topple the Indian hate brigade, as an exhibit. I might write an apocalyptic novel like the "Hateful things" of Terry Goodkind, in the same context.